SEMrush PRO 30-Days Trial and GURU 14-Days FREE Trial Offers
The reason behind my Sites (more than one) success and other professional blogger's success is SEMrush. Because of this tool, I was able to increase my traffic from 100 Visits a day to 3000 Unique Visits per day.
SEMrush allows you to get complete details of any keyword you want to research and also analyze your competitor's site and their keywords so that you have a chance to outrank them.
We have managed to get a special SEMrush free trial deal for Pro Account for 30 days absolutely free.
Get Semrush 7 Day trial without Credit card: Activate 7 Day Semrush trial
SEMrush Guru Promo Code / Coupon
To activate the coupon click on the above link and follow the steps.
BLOGPASS-ZUDGGY3U
SPROUTBLOG-A738VDP5

Note: Subject to Availability, grab before other redeems it.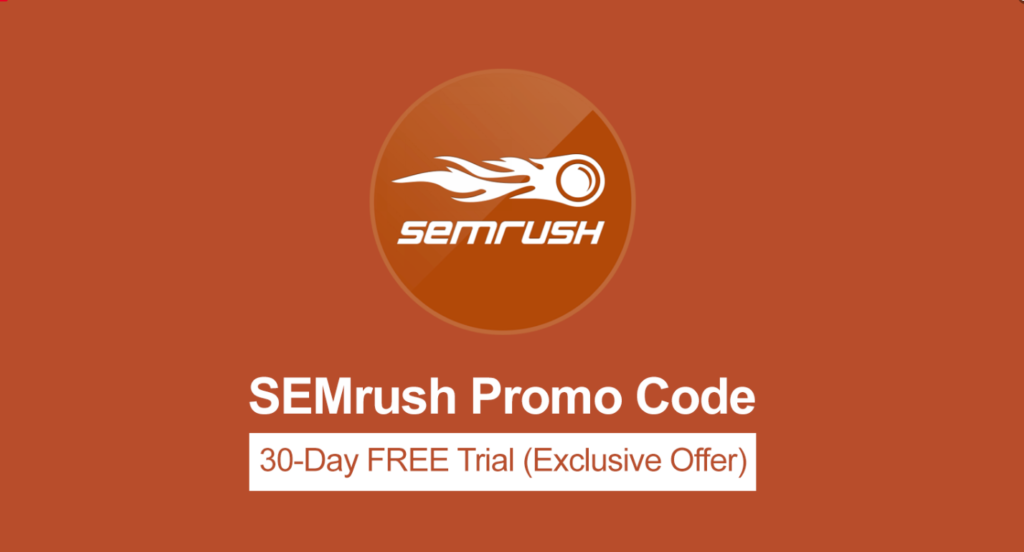 You won't get these offers on the website of SEMrush, as they are exclusive offers. Click and activate your semrush 30 days free trial offer.  
Some Key features of SEMrush are as follows:-
Domain & Keyword Analytics
Keyword Position Tracking
Complete Site Audit with PDF Report
OnPage SEO Checker
Competitor Analysis
Organic Research
Backlinks Research
Adwords Strategy Spying
And many more.
Disclosure: I may receive affiliate compensation for some of the links below at no cost to you if you decide to purchase a paid plan. You can read our affiliate disclosure in our privacy policy.
Difference Between SEMrush Pro VS SEMrush Guru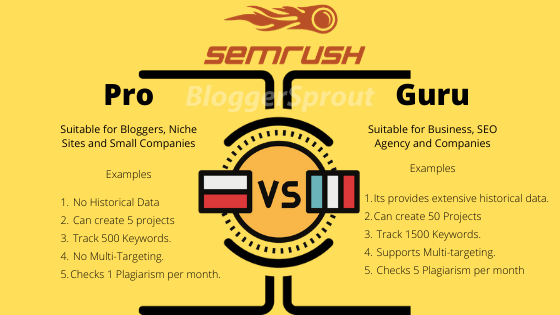 Pro Features
Its suitable for Bloggers, Freelancers and Small Companies.
No Historical Data
Can create 5 projects.
Track 500 Keywords.
No Multi-Targeting.
No Branded Reports but can schedule normal reports upto 5.
Additional users price: $70/m.
Checks 1 Plagiarism per month.
Guru Features
Its best for Agencies, SEO experts and Companies.
Its provides extensive historical data.
Can create 50 Projects
Track 1500 Keywords.
Supports Multi-targeting.
Branded PDF reports and can schedule upto 20 reports.
Additional users price: $140/m.
Checks 5 Plagiarism per month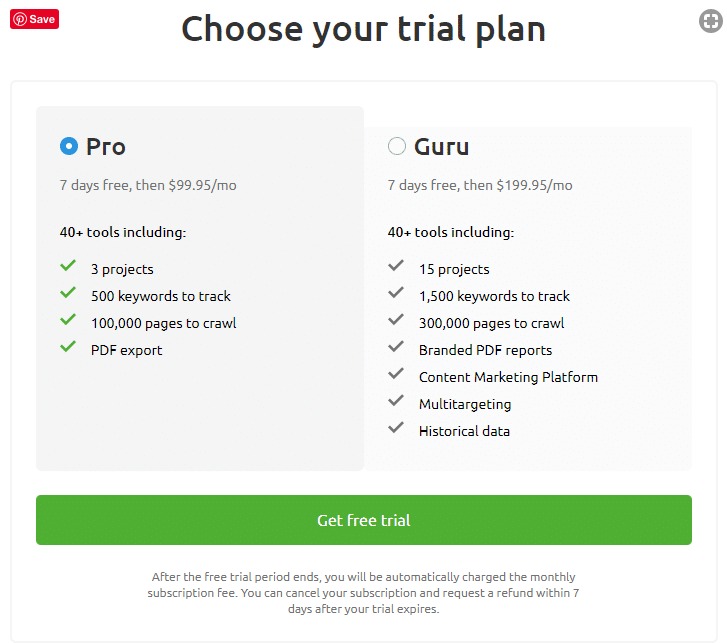 How to get SEMrush 30 Day Free Trial – Pro Account (worth $99.95)?
To get started with a SEMrush 30 days free trial with a Pro account is very simple and you can start boosting and improving your SEO right now for the next 30 days for Free.
We have divided this process into 4 steps so that you can follow up easily.
Step: 1 – Click this Exclusive Offer link for SEMrush to activate your 30-day free Semrush pro account. Which is worth $99.95.
Fill in your details like your email address and the password of your choice.
Next, fill the captcha ( Asked sometimes).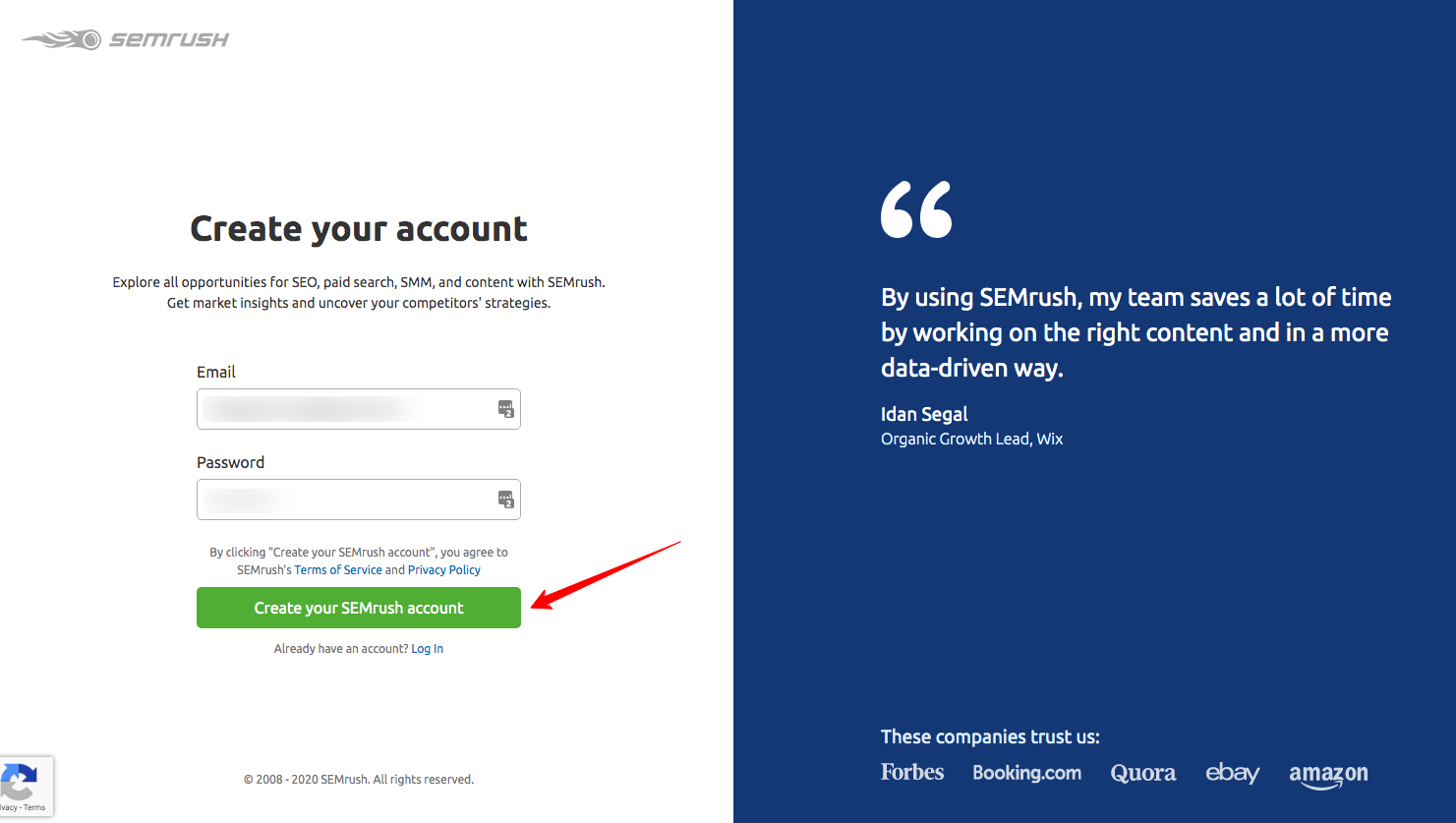 Step: 2 – After successful submission, you will be redirected to a page with the following details – SEMrush 30 days trail
Here the coupon will be automatically activated as the link is an exclusive link.
Step: 3 – On this page, you have to fill in your complete details like the Name, Email and Password, and billing details so that you can proceed and activate your SEMrush Pro account for free for the next 30 days.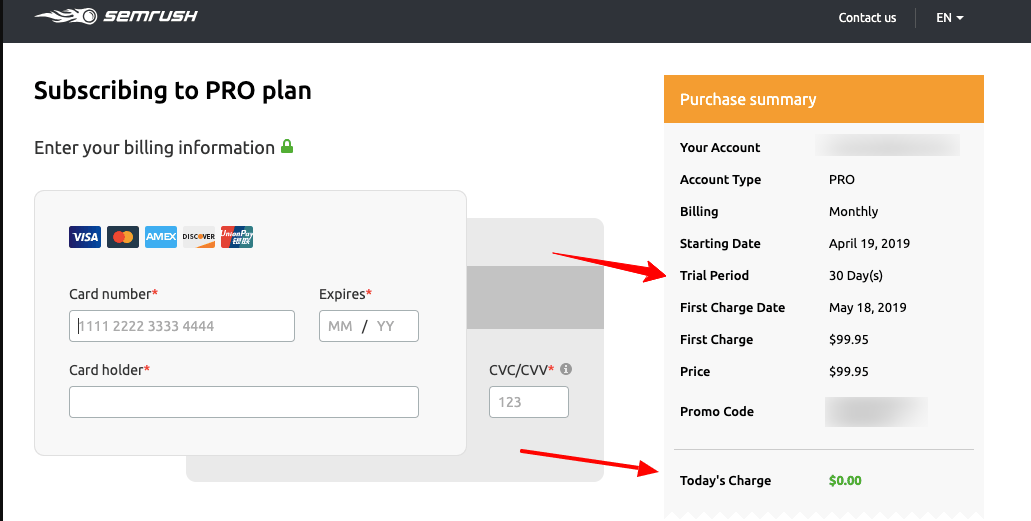 Step: 4 – Click on the "Place the Order" button. Your account will be created and activated without paying any money.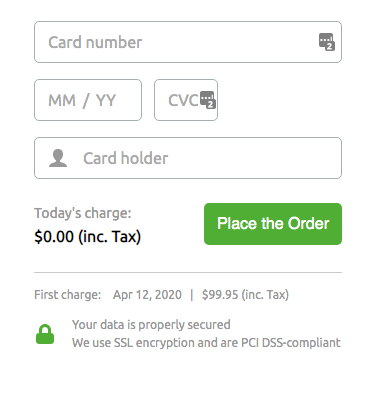 You can now use the SEMrush Pro account and utilize all its pro features for the next 30 days. They also provide the facility to cancel your account at any time by just informing them on their email ( mail@semrush.com)
Note: If you are using a credit card, SEMrush may verify your account credit card billing details by charging a very small amount, which is less than $1, and if it's successful, then your amount will be automatically refunded with a few days.
You don't need any coupon to apply the offer for 30 days free SEMrush Pro Trial. The coupon will be automatically activated when you click the exclusive offer link.
So what are you waiting for?
Go Grab and activate your SEMrush Pro 30 days free account.
How to get Guru Account 14 days SEMrush free trial (worth $100)?
Here's a step-by-step tutorial on how you can create and activate your 14 Days Free Trial of SEMrush Guru Account for absolutely free.
Step: 1 – Click on this link and you will be redirected to the pricing page. Select on the Guru Package.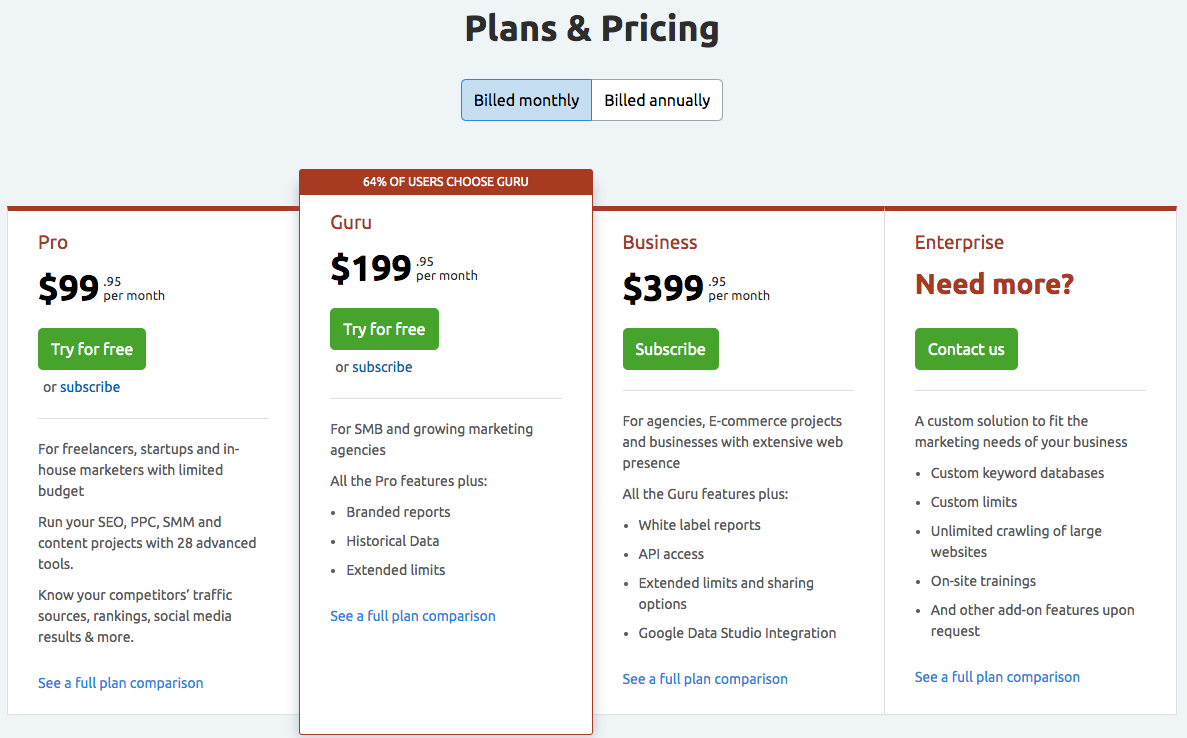 Step: 2 – Enter your email id and password to create your account. Next, you will be taken to the billing information page.
Click on you have a coupon. This is important to get the offer for free.
As soon as you apply this coupon, you will find that the 14 Days trial has been activated and your Total charge is $0.00.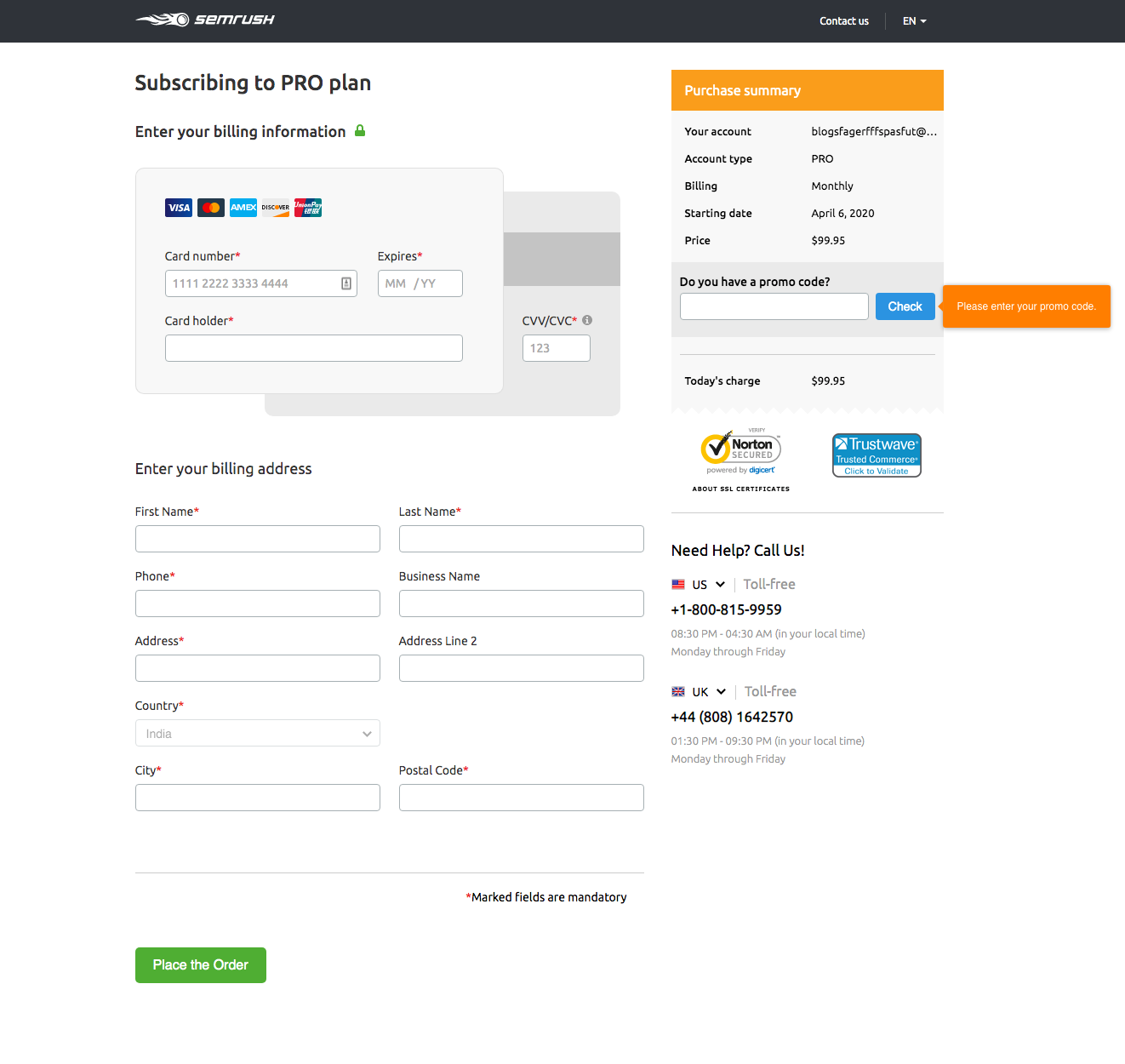 Step: 3 – Complete your billing details and click on the green button " Place the Order". Don't worry, you will not be charged now.
Benefits of SEMrush
Are you wondering what can SEMrush do for you? We use it on our blog and now we have started to see the J-curve of growth.
Here are the Key Benefits of SEMrush
Organic Research
Advertising Research
Backlinks Research
Competitors Ads analysis
Traffic of any website
Crawl Audit
Domain vs Domain Comparision
Site Audit and Fix your Site Issues
Profitable keyword research ideas
Find Competitors Ranking
Conclusion
At first sight, I thought its just another SEO & SEM tool and its pricing is huge and expensive. But after hearing from every other blogger I decided to give it a try, and boy I'm loving it.
That's why I'm so confident that if you are serious about your SEO and SEM, then you will use this tool, so I have managed to get you an exclusive offer for 30 days.
By this, you can try entire SEMrush Pro features without paying a single Dollar and If you like it, you can continue using it.
SEMrush has helped increase our traffic and improve our site SEO. It is also the only tool that we use for Keyword Research and Competitor Analysis.
I hope this article has helped you and get your SEMrush free trial for 30 days. If you have any queries, you can comment below or contact us.
You can also subscribe to our YouTube and Like and Follow us on Facebook, Twitter, and Instagram.
How do I get Semrush for free?
You can get a Semrush Pro account for free for 30 days by clicking on this link and getting a 30-day trial, but you need a credit card. Cancel your account on the 29th day, if you are unhappy.
Can I cancel Semrush free trial?
Yes, you can cancel your SEMrush account or its SEMrush free trial account at any time.
All you need to do is send an email and ask them to cancel your account.
You need to send an email to: mail@semrush.com
Your account will be canceled within 1 business day. If you are canceling a 30-day trial, try to send the email on the 28th day or before.
How much does SEMrush cost?
SEMrush has 3 Pricing Plans.
Pro: $99.95 / month
Guru: $299.95 / month
Business: $399.95/month
But it also has a Free plan for 7 days, 14 days, and 30 days.
Is SEMrush accurate?
All tools gather data through Some API and 3rd party providers. So their data is about average and it's not 100% accurate. But SEMrush data is near to be accurate than its competitors.
Semrush Promo Code Coupon
To activate the coupon click on the above link and follow the steps.
BLOGSPROUT-ZUDGGY3U
SPROUTBLOGGING-A738VDP5
Semrush Free Trial without Credit Card
It's not possible to get a Semrush free trial without a credit card, as you need billing details and the payment details to create an account.
You can do one thing if you don't want to pay for the SEMrush account. Cancel it before the trial ends and they will not charge you.
You can get Semrush 30 days trial with our link.
Can I get Semrush 7 day free trial?
Yes, you can get a 7 day free trial for the SEMrush Pro account. To claim your offer, click:- https://gine.us/semrush-7days
SEMrush Trial 60 Days
SEMrush does offer a free trial but usually for 14 days or 30 days! I have heard about 60 days but I have never applied it or got any coupon for that. If I get any coupon for SEMrush 60 days trial, I will update it here in this blog
How does Semrush compare to Ahrefs?
Comparing Ahrefs and Semrush, both tools are really great and Ahrefs has better UX than Semrush but Semrush provides more features compared to Ahrefs
Which Semrush plan is suitable for me?
If you are a solopreneur or a blogger, the pro plan would be more than enough for you. I personally use the Pro plan and recommend that for you. For agency owners, you need to go with Semrush Guru or Business plans.
Can I get access to historical data with my free plan in Semrush?
No, you can't access it with a free trial or free plan. You need to upgrade to a higher plan to access it.
Does Semrush have a good keyword and backlink index?
Yes, Semrush has one of the largest databases when it comes to keywords and backlinks.
Who owns Semrush?
Oleg Shchegolev and Dmitri Melnikov founded Semrush in 2007. The other name of Semrush is SEOquake.
Semrush Free Trial January 2022
Get Free Guru Trial with coupon code: https://www.bloggersprout.com/semrush-free-trial/
Semrush Coupon Code January 2022
Get Free Guru Trial with coupon code: https://www.bloggersprout.com/semrush-free-trial/