How To Add Live Chat to Your WordPress Website
You may have seen several websites on the internet using the live chat features. Adding a Live Chat functionality helps you to interact with your visitors and to solve their problems and also to turn new visitors into customers by solving their queries.
Live chat features provide immediate benefit to you and your customers.
Live chat features can be found on a banking website, a personal blog, a finance website, a travel website, a business website, an Agencies website and several other websites. To be clear live chat features can be found on every website you encounter in your daily life.
So in this tutorial, we will explain to you how to add live chat in your WordPress site the easy way.
Disclosure: I may receive affiliate compensation for some of the links below at no cost to you if you decide to purchase a paid plan. You can read our affiliate disclosure in our privacy policy.
Why use Live Chat on your WordPress Website?
Live Chat features help the customer and your visitors to contact you and get the queries solved in a very short time.
Live Chat helps you get new customers by solving their queries, retain old customers by solving their problem, and provide any type of assistance to any of your visitors or customers without waiting for hours for there emails for SMS to be replied.
It is found that Live Chat has the highest level of satisfaction among all the channels for customer service including email, phone, and SMS.
Live Chat also helps you recover abandoned carts and improve the overall conversion rate across your website. Since the live chat feature can be enabled on every page, that makes it the best support channel.
Live chat also makes your existing customer turn into a loyal customer or into a Brand Ambassador as they are always satisfied with the fast customer assistance using this feature.
 Pros and Cons of Live Chat
Live chat features have their Pros and Cons.
Let's discuss the Pros first.
Pros
Easy and cheap to get started.
You can change the look and feel according to your website.
Live chat can be enabled on every page of your website.
Live chat faster response means visitors won't have to wait.
It also helps you convert visitors to customers.
It also saves time for your support team by answering fever emails and support calls.
Customer satisfaction is also very high since their queries are resolved at the same time.
You can outsource live chat support and provide 24X7 service.
That can also be used to capture leads.
It can be also used together analytic information about the customer.
Cons
Live chat is not free.
Your support team should be ready for any query from the visitor.
Customers are disappointed to see live chat to be offline.
Outsourcing live chat support is expensive.
How to Add Live Chat to Your WordPress Website.
Here in this tutorial, we will use live WP-Live Chat by 3CX.
Alternative: You can also use Live Chat unlimited WordPress plugin by screets. This plugin is one of the most popular WordPress live chat plugin and has been used by more than 7725 paid users and the reading of 4.43 out of 5 stars.
This plugin is also one of the bestseller Chat Plugin in CodeCanyon.
Some of its features are:-
Open Source
Install on unlimited domains
100 users1 can chat at one time (i.e. 10 operators and 90 visitors)
Lightweight. It works in iframe not to hurt your page performance. Your widget loads itself once your page fully loaded..
Multi-lingual support (WPML and Polylang plugins)
Very clean code
More than one operators can reply to the same user's question
"Email notifications" when a new visitor is online (optional)
SSL support. All your and visitor messages will be encrypted
Tested with latest WordPress
GDPR compliance (see details end of the page)
Tested with PHP 7.2 and WordPress 5.3.x
This plugin makes use of the firebase from Google Cloud which is a free service and it is also a complaint with GDRP.  Live Chat is also been mentioned in several other WordPress blogs like WPGuruji.com.
There is no good free live chat plugin for WordPress.  You have to pay a recurring fee to use or pay a one time fee to get it.
It is the best live chat software in the market.  We can confidentially recommend it because we use it in on one of our own business website, GloriousThemes.com.
Installing the Live Chat Plugin
To get started, Go to plugins > Add New > Search > Wp Live Chat
Once you have downloaded it, install and activate the wp live chat plugin.

After activating it, click on Live Chat > Settings. You will have several options.
Configuring General Settings.
The General Settings allow you to configure where you want to show the live chat button on your website.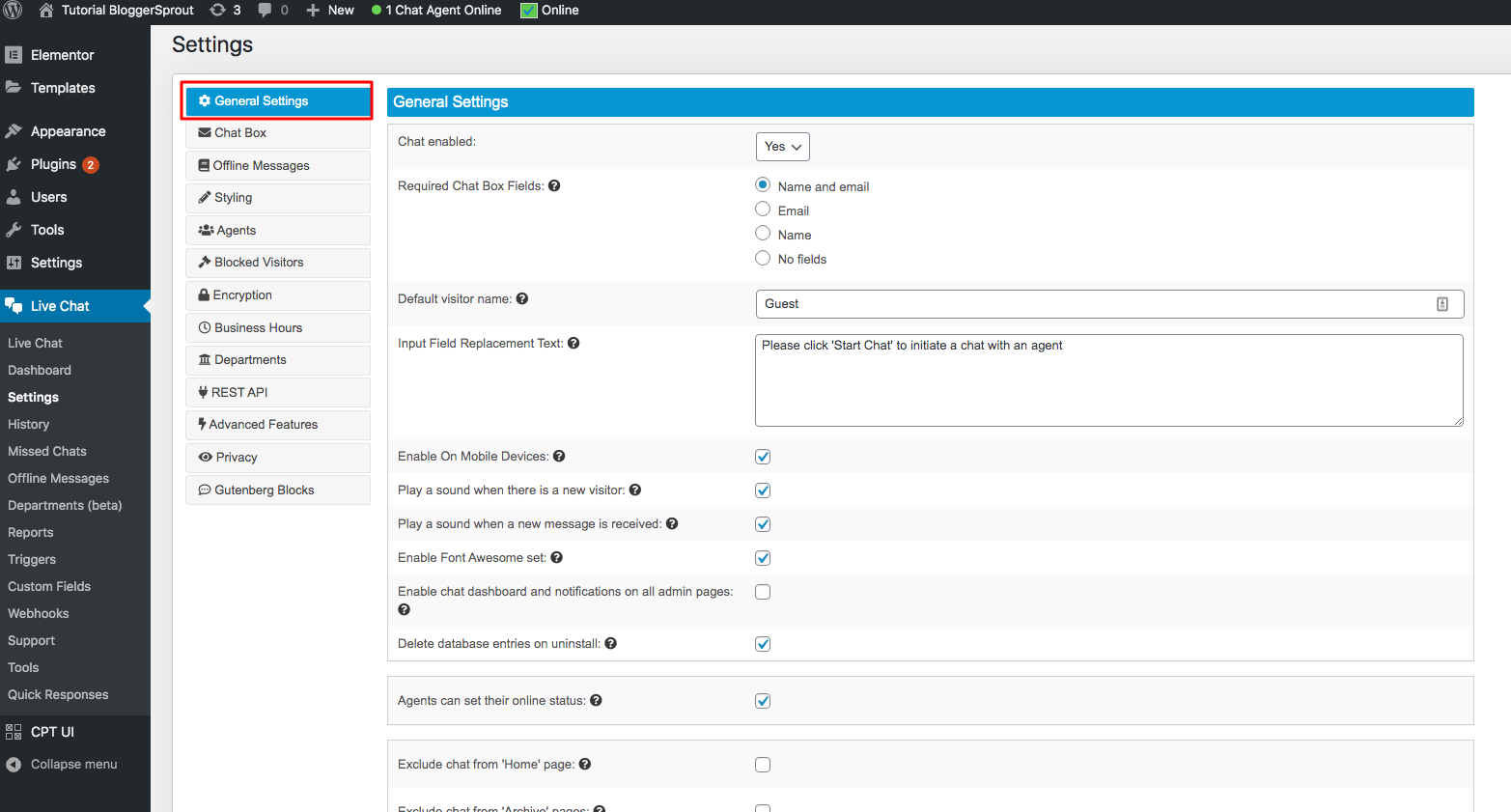 Click on Save Changes.
This activates the Live Chat Plugin, you can visit the front end to have a look.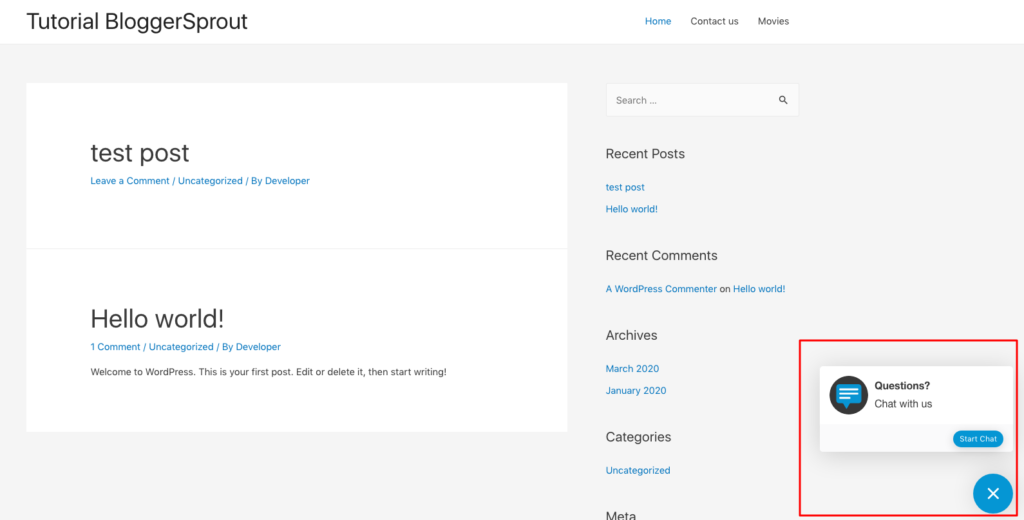 The Plugin offers a lot of features and also provides you a pro version. You can find the pro version here.
The Live Chat plugin is ready for use as most of the data are prefilled by the developers. However, you can change the default data as per your requirement.
Configuring Chat Box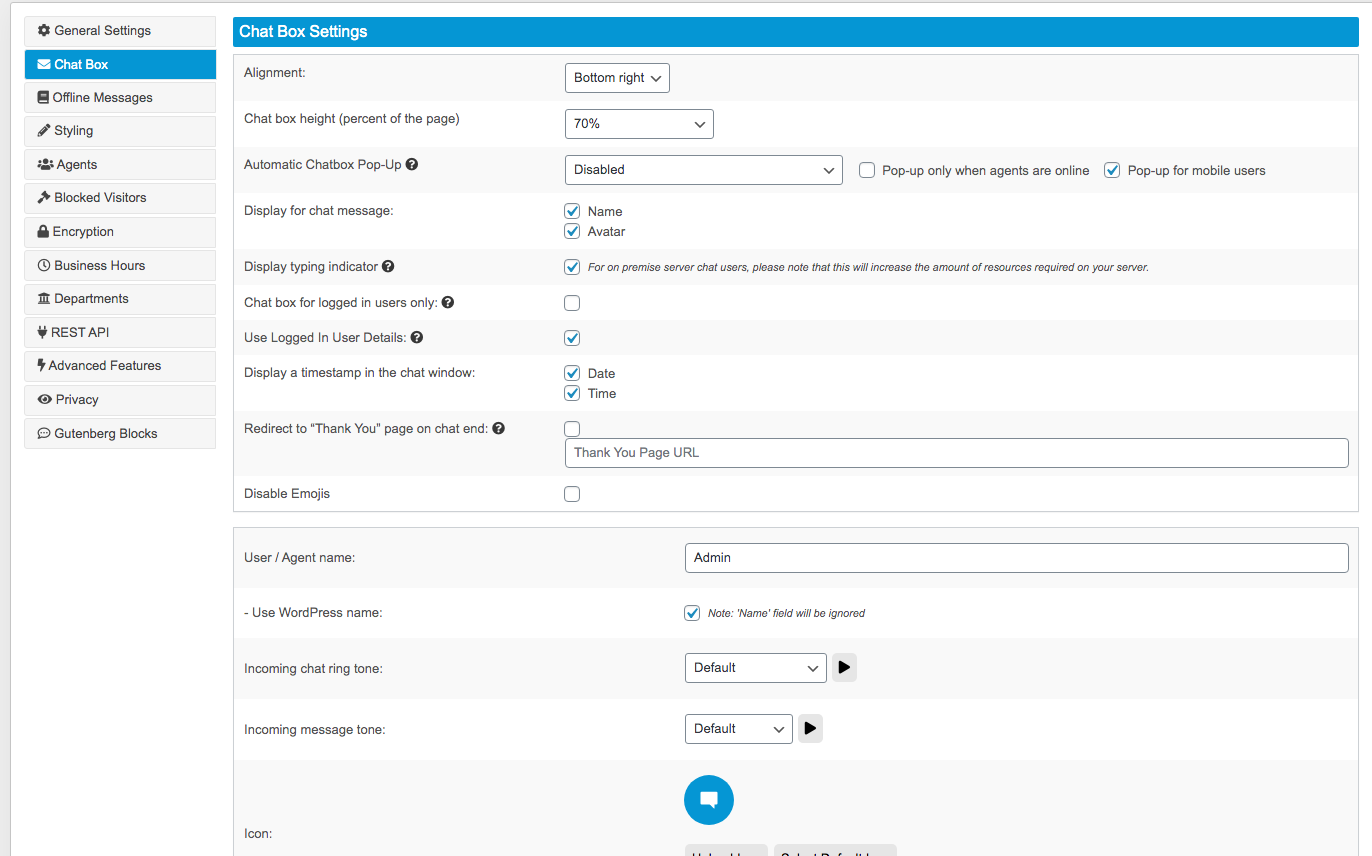 Here you can change the look of the chatbox, change its icon, change its position, assign a ring tone and set the default name of a chat agent.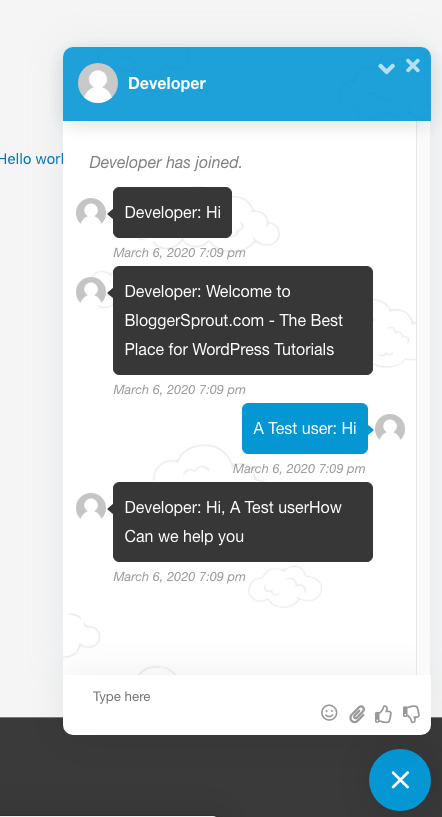 So our live chat plugin is ready to use. You can also trigger the chat plugin to pop-up automatically on desktop and to hide on mobile users.
Configuring Offline Messages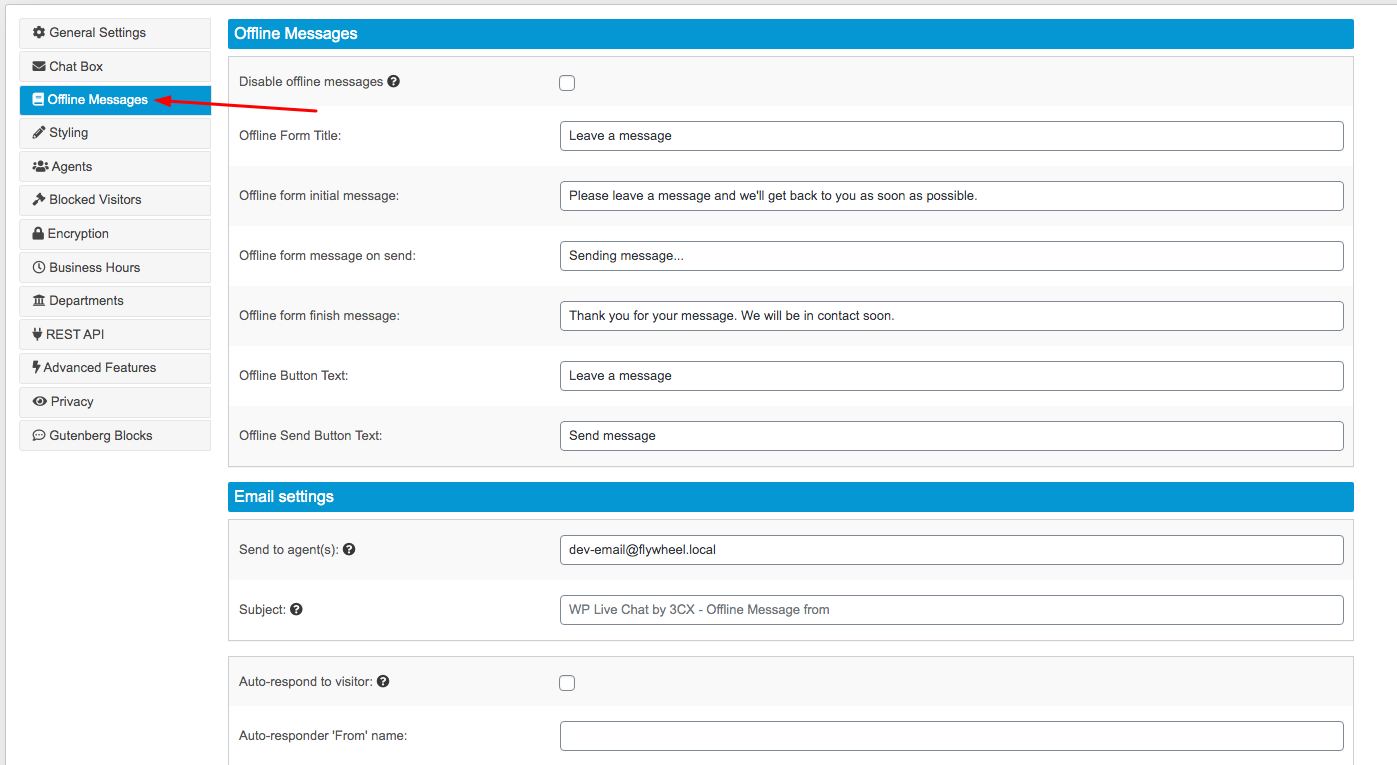 The offline Message allows your live chat plugin to act as a lead capture widget. The plugin will display that all support agents are offline and will ask the user to submit their name and email and the message so that the support agents would get you back when they get online.
Configuring Offline Messages
This section allows you to change the colors and feel of the live chat window. You can also change the icons and text that appear as the default on the live chat window.
The text that you can change is:- Start Chat, Connecting, Questions, Chat Box Title, Intro, Welcome Message, No agents message, and several others.
Configuring Agents
Here you can create new users to act as your Live Chat support team. The Chat agents are selected from pre-registered users from WordPress.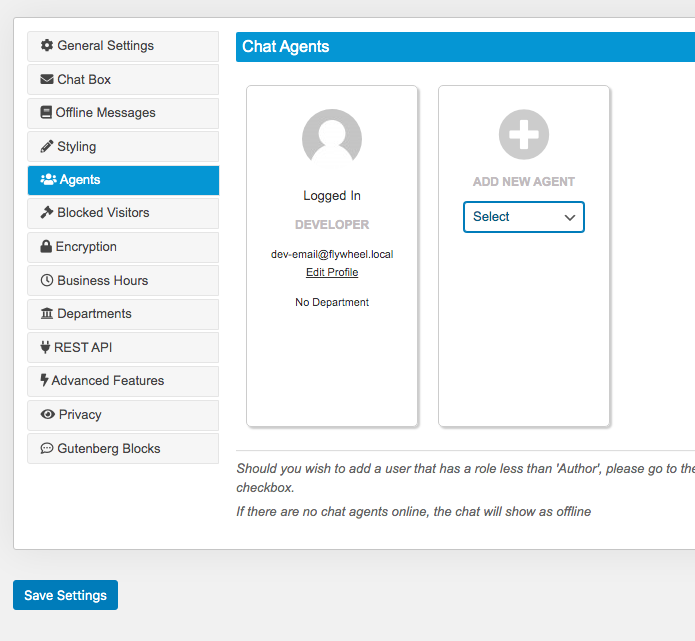 You can also assign departments to each of your Chat Agents.
Some Extra Features
Live Chat allows you to Block visitors using their IP address, If a user is spamming the chat or misusing it then you have this option to block the user.
It also allows you to encrypt the entire message with an encryption key and it also supports Business Hours. Enabling Business Hours allows the Live chat plugin to show the message of Online or Offline to the visitors depending on your time which is based on Business Hours.
Business hours can be set according to you from Sunday to Monday.
Live Chat also supports Departments which is useful for the Chat Agents. You can Create Departments like Pre Sales, Technical, Account, Payments, etc.
It also comes with Gutenberg support with block and privacy control like GDRP Compliance.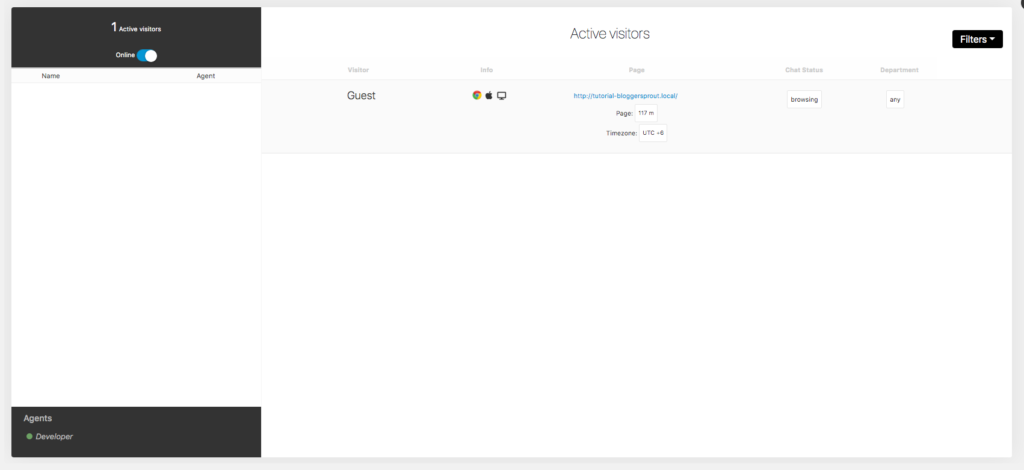 It provides you with a dashboard and Live Chat Window. The dashboard provides you to Information, Analytics, Missed Chat, Quick responses and other latest news and the Live chat windows show how many users are online and have clicked the chat button.
Final words- conclusion
Live check helps to turn your visitor into your customer boost your user engagement and resolve their problems and queries and turn them into your brand ambassador for saving fans.
Configuring this plugin takes a bit time but it's worth it. 
If you are using any live chat plugin on your website kindly comment on below the name of the plugin.  if you have any queries let us know in the comment section.
We hope this tutorial helps you learn how to easily at free live chat in WordPress.  You may also want to see our list of 8 best WordPress plugin for Live chat.
If you like this article then please subscribe to our YouTube channel for WordPress videos. You can also find us on Twitter Facebook and TikTok.