How To Create Automatic WordPress Backups For Free With WP Time Capsule
Creating regular WordPress backups is the best gift you can give yourself and also the best thing you can do for your website. Backups give you a peace of mind and can save you in catastrophic situations when your site gets hacked or you accidentally lock yourself out, or your hosting server gets infected with malware.
There are several free and paid backup plugins and websites that offer seamless backup for WordPress, and most of them are fairly easy to use and comes in Freemium and Pro to provide you access to all that powerful features. In this article, we will show you the best and free way to have automatic incremental backups with wpTimecapsule
In case if you are seeking for a backup plugin then this 7 best backup plugins for WordPress can definitely help you out.
Overview – What is WP Time Capsule
WP Time Capsule is a free WordPress backup service with a plugin developed by the InfiniteWP team. This plugin does an awesome job on creating incremental backups of your site automatically and stores your WordPress core files, media, uploads and your database in your favorite cloud storage.
The options for cloud storage are as follows:
Dropbox
Google Drive
Amazon S3
[wpk3_scode_item title="WP Time Capsule" price="0 – $6 / mo" btn_text="Download" link_btn="http://www.wpkore.com/wptimecapsule" image="https://www.wpkore.com/wp-content/uploads/2018/03/wptimecapsule-wpkore.png" link_demo="http://www.wpkore.com/wptimecapsule" rating="5.0″ demo_status="active" short_desc="Now no more worrying of Updates of Backups, While I focus on Blogging WPTimeCapsule keep me supporting Daily with its Automatic Hassle Free Backups that are Easy to Restore."]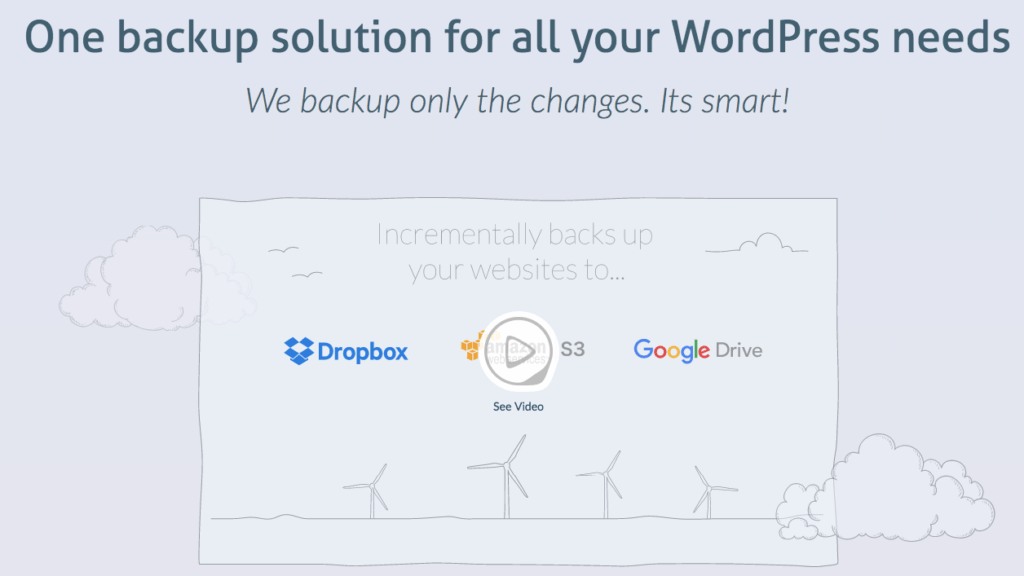 You can schedule your backups at any time of your choice, as it happens automatically at your pre-set time.
Incremental Backups – How wpTimeCapsule Works?
WP Time Capsule is really smart when it comes to creating backup of your WordPress site. Its so designed that it will have your entire WordPress site backed up when you run the backup for the first time, and after that, it will only update the files and database that have been changed or updated automatically or manually by you. It only updates the changes you make thereafter.
The reason behind implementing the incremental backups it to avoid the hiccups that your server and blog get you run the backup service. The stress of backing up your entire database and WordPress files over and over again is really tiring and frustrating, and truly speaking I don't enjoy taking daily backups.
Backing Up – How To Freely Backup Your Site with wpTimeCapsule
[Note: Clicking the below links will take you directly to the selected topic, making it easier to directly visit and read the section you want.]
1. Creating an Account
This is the first step to get started. Go to WPTimeCapsule.com, and click the Sign Up for Free button. Fill the form with your name, email address and desired password and hit create an account button.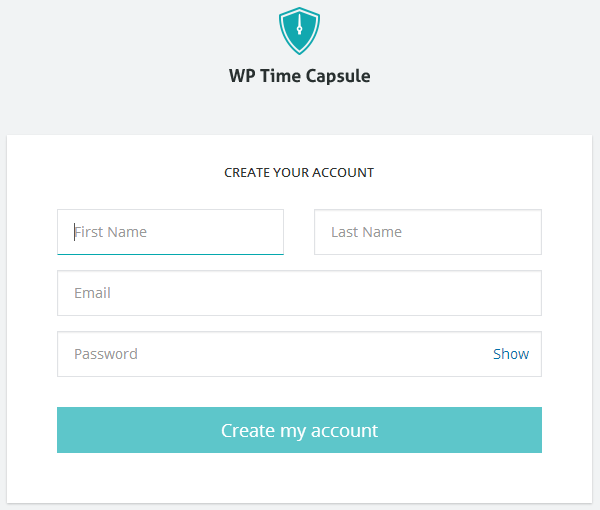 It will send an email with a confirmation link, click the link and activate your account.
2. Installing & Setting Up WP Time Capsule
In order to have your WordPress backup, wpTimeCapsule requires you to have a plugin installed. To install the WordPress plugin, Log into your WordPress site, and go to the Add a New Plugin page and search for "wpTimeCapsule", Click the Install Now and Active it.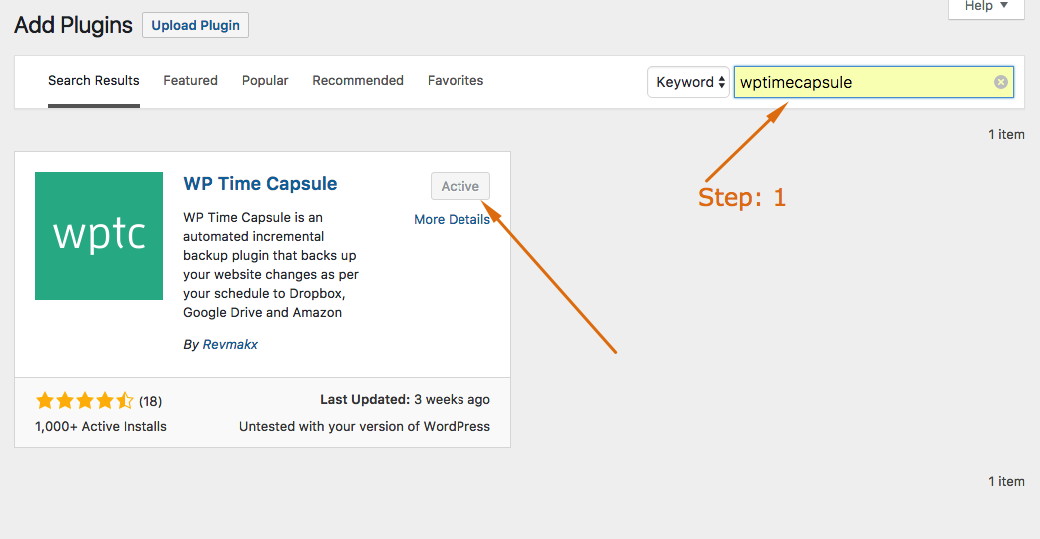 [bravepop id="14292" align="center"]
Now head over to wpTimeCapsule in your wp-admin and select the cloud storage app tab and select the cloud app that you would like to have your backups saved. Click and sign into your account to connect the app.

Now choose the cloud storage app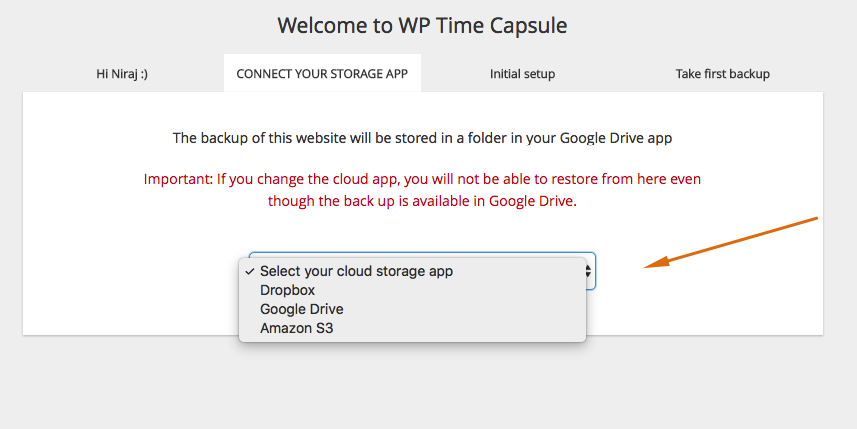 3. Scheduling Backups
wpTimecapsule start backup process every day at the desired time you have selected. Select the desired time and the time zone city, in case your city is not listed, choose the nearest city or the same city that has the same timezone as you.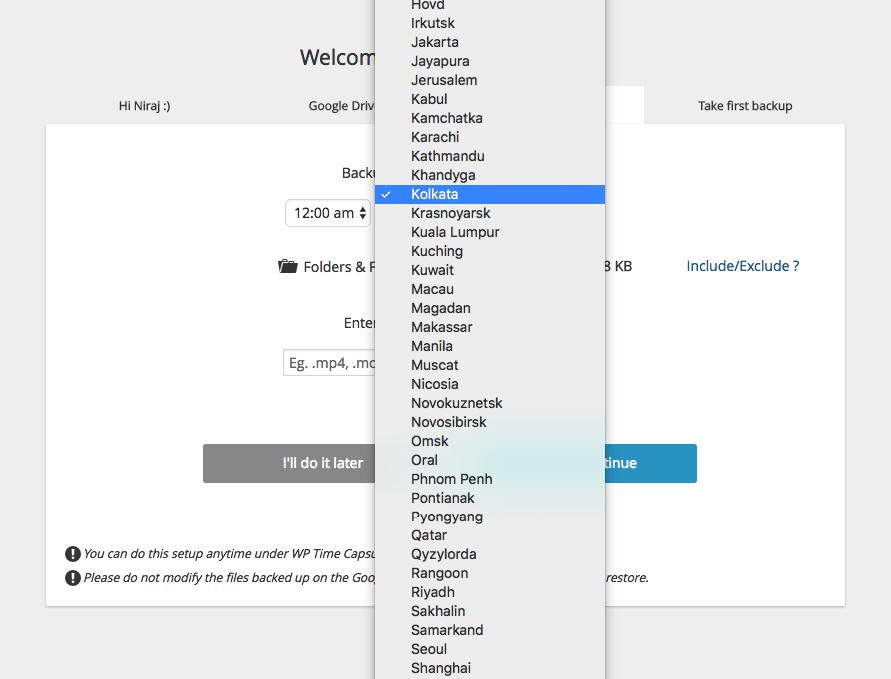 The next step is choosing what you want to backup, I recommend you to have a complete backup of your site. Click the Include/Exclude option then Folder & Files option and select all of your files after that click on the database and select all the listed checkboxes. You can exclude any file, folder or a database table field if you don't want to have it back up.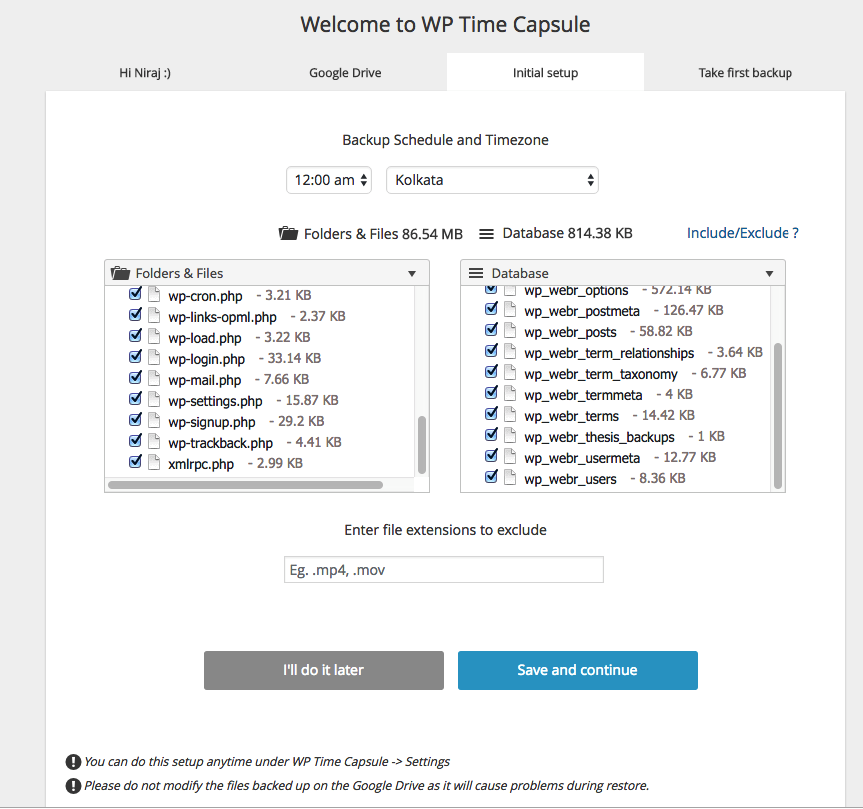 If there are any file extensions that you don't want to backup and exclude it to save time and space, enter them in the box.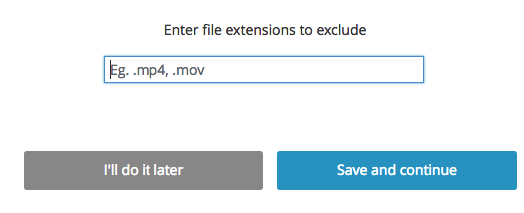 Click on save and Continue.
4. Creating Your First Backup
Here comes the time consuming and lengthy part of the backup, which may bore you or slow down the performance of your WordPress site. WP Time Capsule's take first backup syncs all your selected folder, files, and database to your selected cloud storage. It creates an initial and complete backup the first time it runs and then only backups any changes made to your site after that.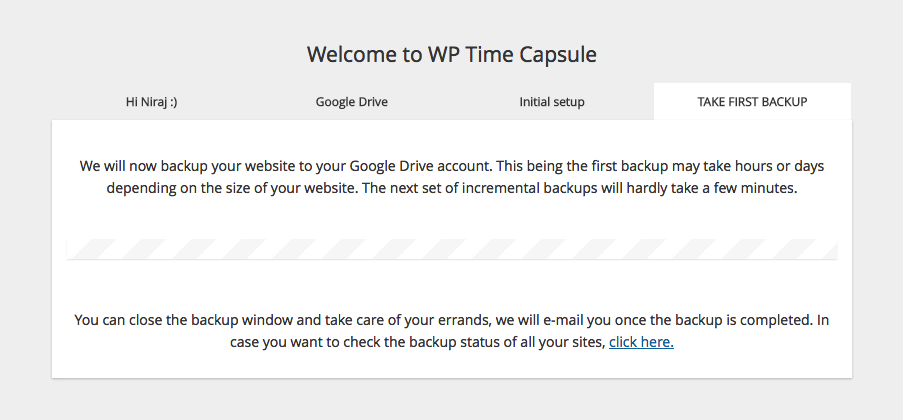 The backup process is automatically started when you hit the save and Continue button in the previous step.
5. Viewing Your Activity Log
To check whether your backup was successful, you can view your activity log by visiting  WP Time Capsule > Activity Log. You can check the status , the time it took to complete the backup
6. Restoring Your Site from a Backup
The plugin automatically takes daily backup for your site, and each backup creates a restore point. If for any reason your site turns nonoperational, you can restore it to any one of these days using a restore point.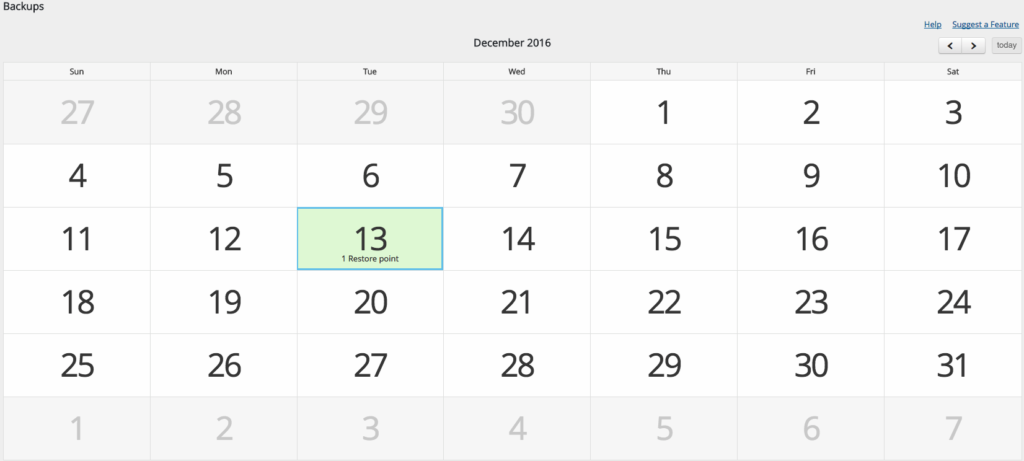 Click 1 Restore Point on your most recent restore point to restore your site to the last day it functioned correctly. While restoring you have the option to choose what you want to restore. Click the list icon to open the selection menu.
Only the files that were changed appear in this screen, so you may only find the database and the changed file here. For any reason if you want to restore your site completely, you will need to choose your initial backup as a restore point.
Once you have selected everything that you want to restore, click the Restore Selected button or Restore site to this point, if you want to restore every file that was backed up to that day.

A popup will appear asking if you're sure to restore your site. Click Yes to proceed.
Which will now present you with a progress bar to let you know how far the restoration has proceeded.
After successful restoration, you will be redirected to the WP Time capsule calender.
You will also receive an automated email from Wp Time Capsule shortly after the restoration begins.
Where are Backups Saved?
WP Time capsule creates a new folder by its name in the main directory of the selected cloud storage and creates a new folder inside it name "yourdomain.com", which is where your backup is located.
The database is backed in a separate folder. If you need access to your database file for a manual restoration, you can access it by visiting your Cloud Storage App > WP Time Capsule > yourdomain.com> Uploads > tCapsule > Backups.
Features
Website Rollback
Backup Before Update
One-Click Staging
File Change Monitor
Final Thoughts
Many other backup service providers like Managewp, Jetpack Vault provide the same features as WP Time Capsule, but the charge a fee for their service.
Wp Time capsule make the painful backup process enjoying and easy. You will forget that a backup solution is running in your background as its all automated a process and does incremental backups.
Get your own copy of WPTimeCapsule.
[wpk3_scode_item title="WP Time Capsule" price="0 – $6 / mo" btn_text="Download" link_btn="http://www.wpkore.com/wptimecapsule" image="https://www.wpkore.com/wp-content/uploads/2018/03/wptimecapsule-wpkore.png" link_demo="http://www.wpkore.com/wptimecapsule" rating="5.0″ demo_status="active" short_desc="Now no more worrying of Updates of Backups, While I focus on Blogging WPTimeCapsule keep me supporting Daily with its Automatic Hassle Free Backups that are Easy to Restore."]