6 Best SEO Software to Check Ranking in Google
I want to rank on the first page of Google, is this the question you have ever asked. Don't worry you are not alone for most people search engine driver majority of the traffic to their websites and with Google being the number one search engine on the Internet its not surprising that we are all obsessed to rank our website and blogs on the first page of Google.
The most important element of SEO for any website and blog is to choose the right keyword by keyword research. The most common mistake that every blogger makes is that they keep on writing articles and publishing it and forget the main thing is to track their keyboard and do proper keyword research before writing an article.
On bloggerSprout we use SEMrush for all our keyword research and finding the right keyboard.
Using the right and proper tool helps us to find the perfect keyword for our blog without spending hours and hours on results. using SEMrush we find our perfect keyword within 10 to 15 minutes.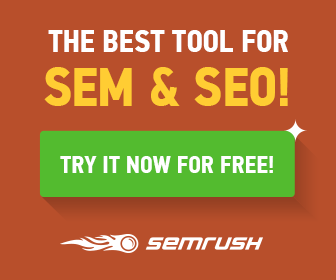 Every blogger and website owner should focus on long-tail keywords that can drive traffic to their website and have the possibility to show up their website on the first page of Google or at least on the top 50 results.
So in order to accomplish this goal and get great traffic from search engines like Google you need to have proper keyword research.  In this article, we have listed the best keyword research that you can use to find keywords for your blog.
Note:  Finding the right keyword is the battle every blogger fights,  and don't expect to win the battle with free things.  A good and excellent keyword research tool is always a paid and Pro to which requires a monthly or yearly payment.  We recommend you to use SEMrush as we use it for yours and for all our blog and niche sites,  and we can guarantee you that you will find great keywords for your blog and websites.
Disclosure: I may receive affiliate compensation for some of the links below at no cost to you if you decide to purchase a paid plan. You can read our affiliate disclosure in our privacy policy.
What do you want to rank for?
I hear from time to time from people asking me questions on social media and commenting on my websites. And the question is the same for all.
How can I rank on the 1st page of google and check ranking in google?
And my simple answer is – For what?
Google is Smarter and more smarter day by day and is trying to provide great user experience and answers to their questions. So if you think you can rank your website, it's not possible.
But ranking your blog post, articles or even your website on the search results for a particular keyword is possible.
But for that you need to understand different types of Keywords.
Different Types of Keywords
There are several types of keywords and to rank them you should have a proper strategy. Inorder to make a proper strategy you should choose a particular type of keyword.
Branded Keywords
Location Based Keywords
Service Based Keywords
Product Based Keywords
Long Tail Keywords
In this article we will be focusing on long tail keywords as it performs the best and brings good traffic to your blog or website.
Best Tools to Check Ranking in Google
SEMrush is a complete solution for SEO, Keyword Research, Backlink Checker and Competition Analysis and it is our favourite tool.
SEMrush makes it really easy to use to search and find the right keywords. It also helps you to seal your competitor's traffic by showing you their keywords and allowing you to compete with them.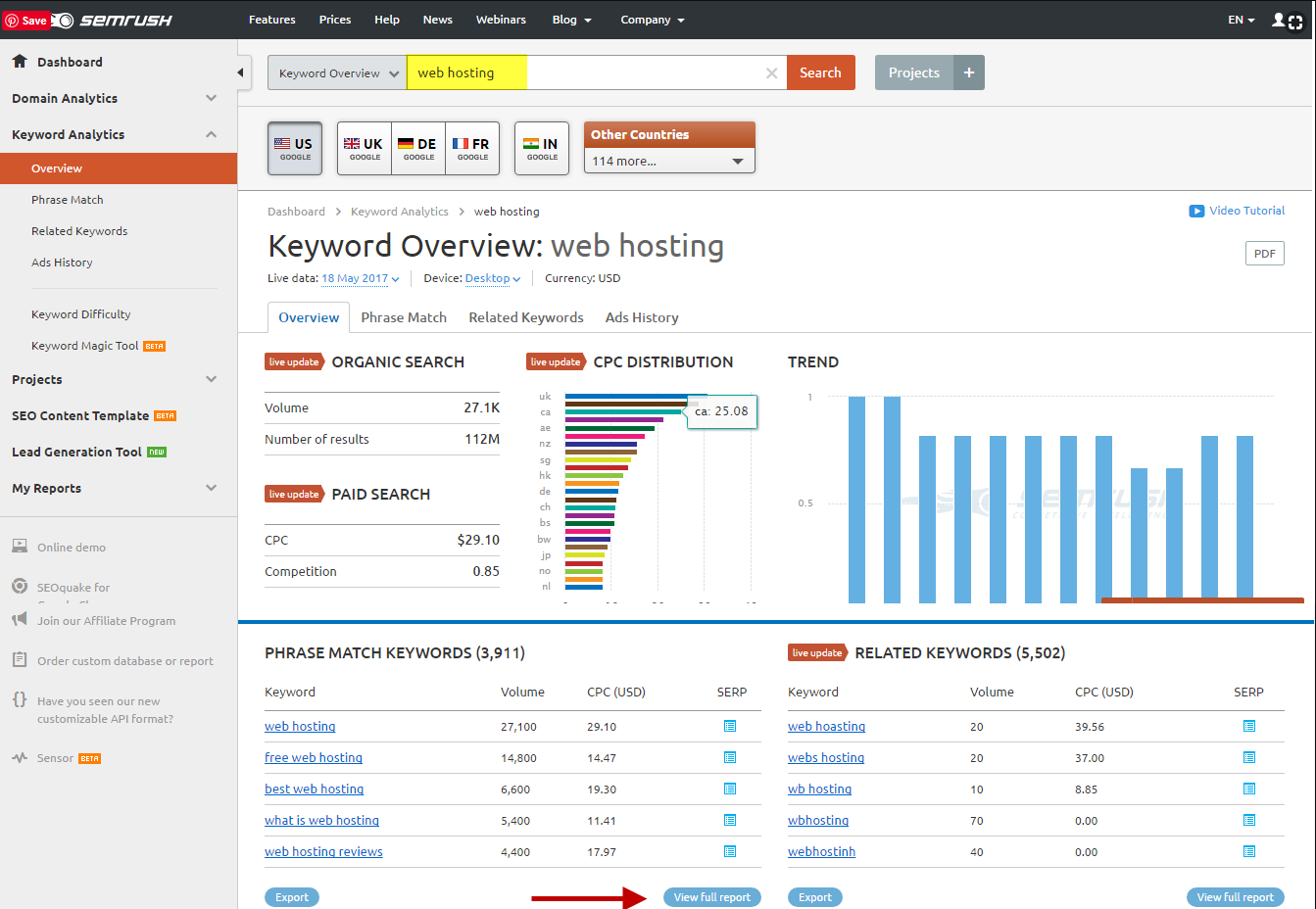 All you need to do is enter your competitor's website URL and select the country where you think your competitor ranks and press enter.
SEMrush will show you all the keywords that your competitor ranks and you can have further details on that keyword by clicking on it.
You can also use it to find your own websites to Check Ranking in Google and its position.
SEMrush is a professional tool that you can try for free before buying and making any payment. It makes it really simple to use such a great and powerful SEO tool.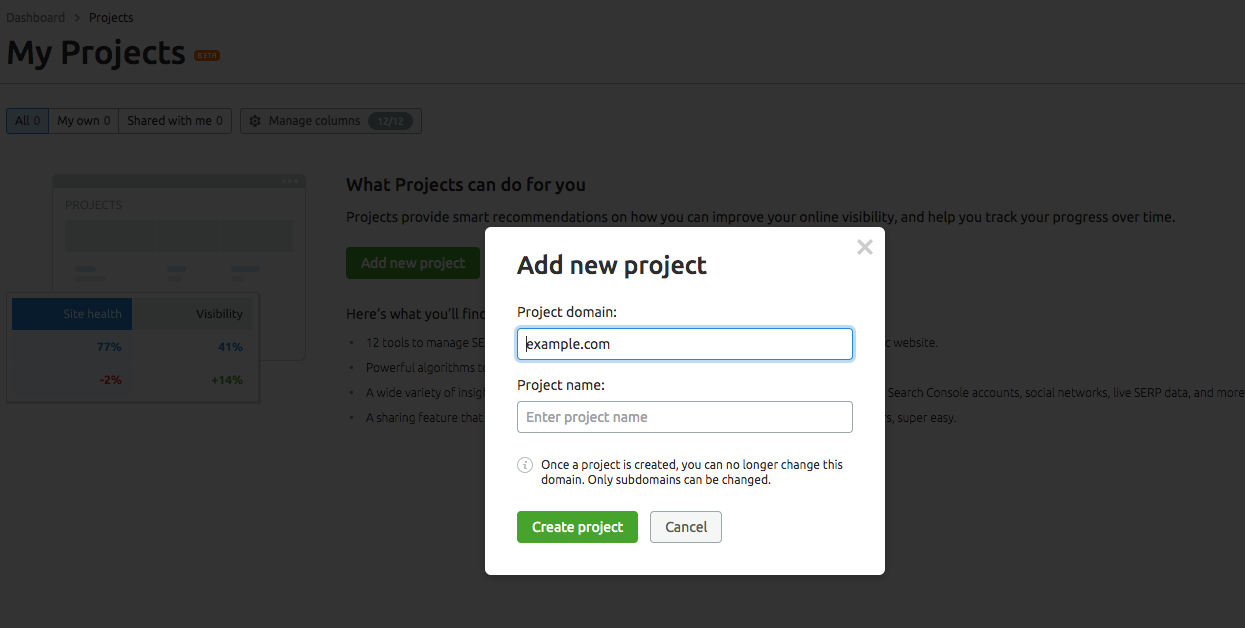 Here is how you can use SEMrush to track your ranking .
Login to SEMrush
Select Rank Tracking > position tracking
Create a New Project
Enter your domain name and a meaningful Project name, so that you can identify easily.
Click on create project.
The Project will now be running and providing you constant updates on your keyword position.
Price
Pro (99.95/ month)
Guru ($199.95/month)
Business ($399.95/month)
Enterprise tailored to suit individual needs
Free plan:
Pro and Guru offer a seven-day free trial. But using our special link you can get 14-Days Free Trial of SEMrush.
Some Key features of SEMrush are as follows:-
Domain & Keyword Analytics
Keyword Position Tracking
Complete Site Audit with PDF Report
OnPage SEO Checker
Competitor Analysis
Organic Research
Backlinks Research
Adwords Strategy Spying
And many more.
If you are on a hunt to find a great SEO tool that doesn't break your bank and empty your pocket then SERPwatcher is there for you.
Mangools is the company behind SERPwatcher, KWfinder and several other SEO tools. While other tools cost around $99 a month. SERPwatcher comes for just $29/ month, which makes it easily affordable and it has the best user interface I ever came across with any SEO tools.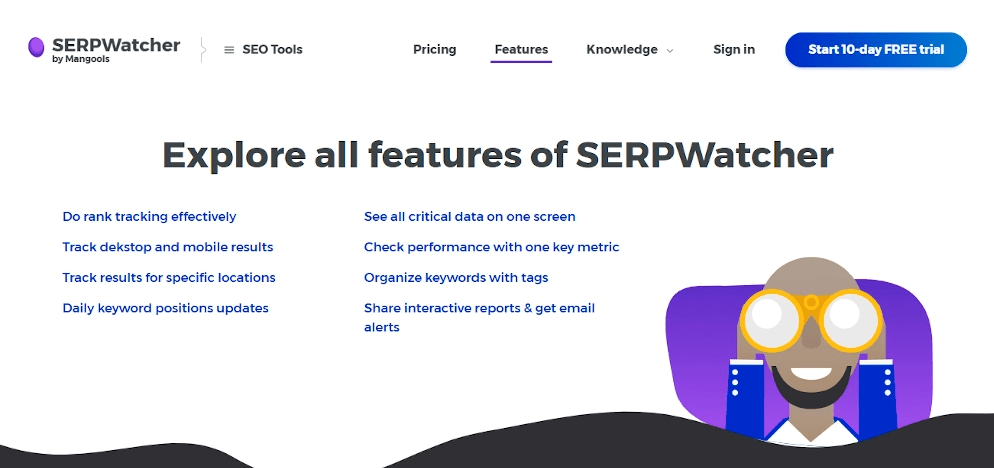 SERPwatcher lets you track keyword position for any domain based on Geolocation & devies ( Desktop & Mobile)
Price
Basic ($49 / month)
Premium ($69 / month)
Agency ($129 / month)
You can save 40% by choosing to pay yearly. Depending on your package you can track 200/700/1500 keywords.
Free Plan
You will get a 10 Day trial to track 10 Keywords without any credit card information.
Other Features
Historical Rank tracking
Competitor Analysis
Device and Location Tracking
Ease of Use:
dominance index to track overall progress
Daily rank updates
Interactive and Shareable reports
Email alerts
3. Ahrefs
If someone who can compete with SEMrush is Ahrefs. When I started blogging I chose SEmrush for all my SEO analysis and Competitor analysis and I'm happy with it. But if in future I have to replace SEmrush with anything then I would prefer ahrefs.
Ahrefs is a tank of tools and features for SEO and it automatically detects what keyword your website is ranking for and in which country.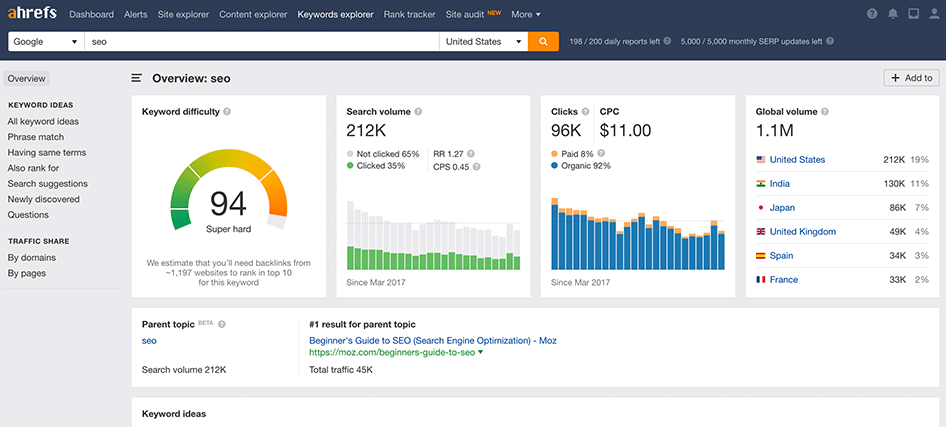 Pricing
Lite ($99/month)
Standard ($179/month)
Advanced ($399/month)
Agency ($999/month)
All plans include all tools – Keyword Research, Content Explorer, Site Audit and more.
Free Plan
Ahrefs doesn't provide any free plans on any of its packages but you can try it for 7 Days for $7.
It also provides competitor analysis for upto 5 URLs and the ability to track locations across 170 countries but you will need a higher plan to track across all countries.
Other Features
13 SERP features
Advanced metrics for tracked keywords
Wide data crawling
In short, Ahrefs is a full-featured SEO tool that you'll want working for you.
4. AccuRanker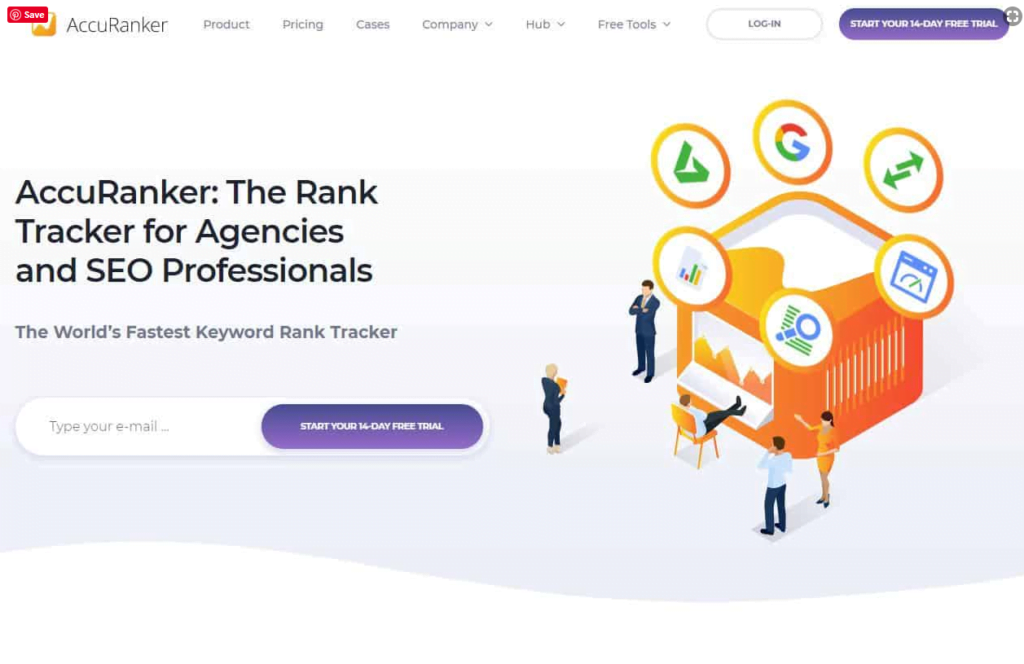 AccuRanker is a dedicated tool just to check your keywords position on search results. It is a paid tool and is a perfect choice for anyone who just want to check the ranks of their keywords.
The interface of AccuRanker is very clean and minimal, which allows you to quickly understand what is going on. It also works with Bing, Yandex apart from Google and is very popular and known as Yandex Keyword monitor.
AccuRanker allows you to track keywords based on locations and to track any new keyword all you need to do is add a new keyword to track and set the target location. And click the Add Keyword button.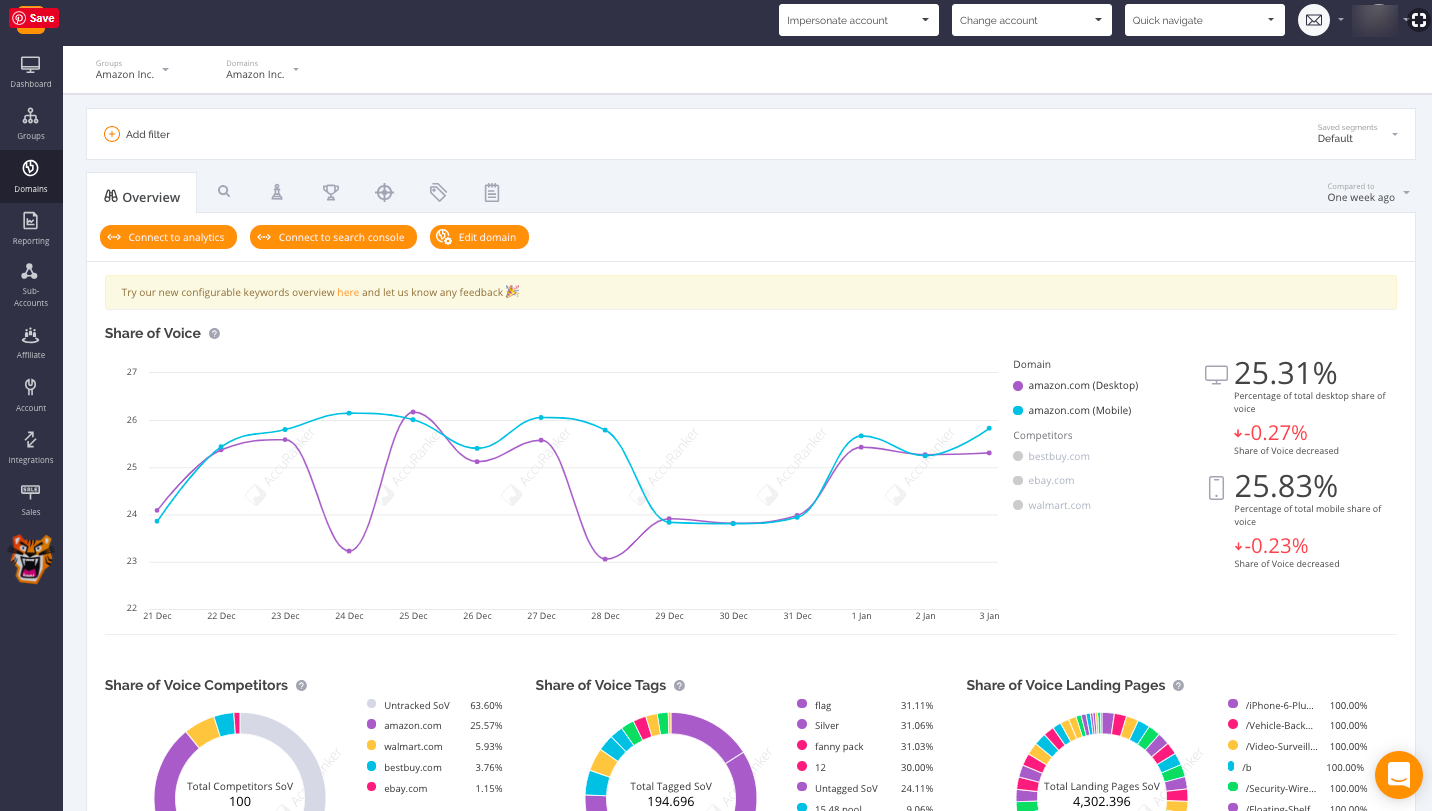 You can choose multiple countries/locations for any keywords to be tracked.
Pricing
Start with $109/monthly but if you choose Yearly then it will cost around $99/mo
Allows you to check SERP for Free
Other Features
Supports search engines like – Google / YouTube / Bing / Yandex / Baidu
Allows you to filter Desktop / Mobile / Local Results
Has more than 50+ Unique SERP Features
Track Unlimited Domains and Users
Shows Historic Search Volume
Free Plan.
Accuranker allows you to enjoy 14 Days of Free Trial
5. SEOProfiler
SEOProfiler is a complete SEO solution and provides great features to outrank your competitors.
It provides features like Daily ranking checks, automated SEO audits and website analytics.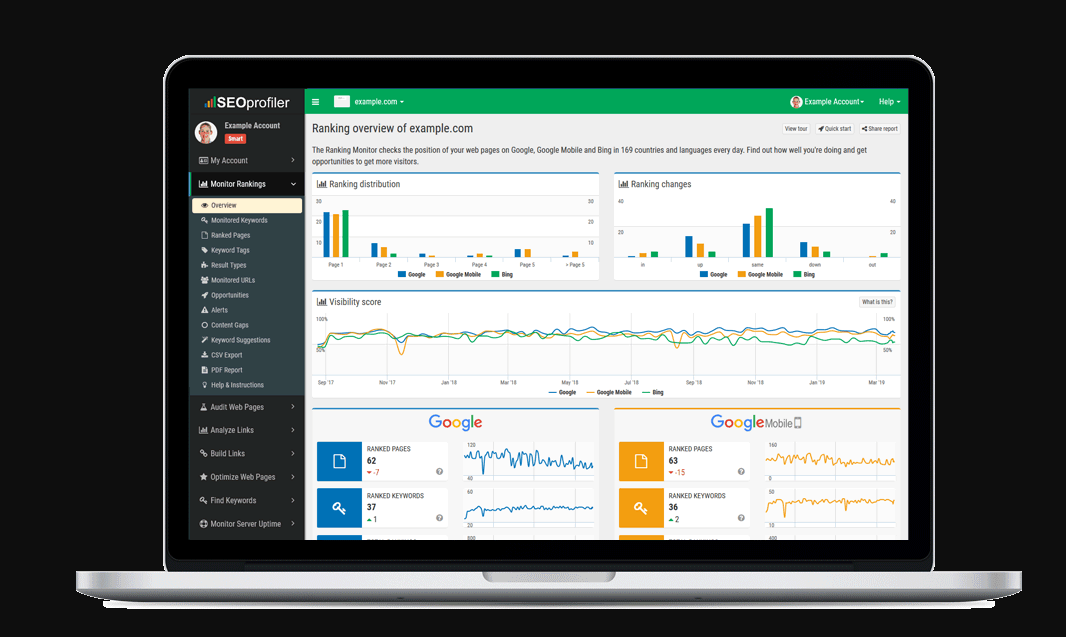 Some other features:-
Daily Ranking Checks
Automated SEO audits
On-page optimization
Off-page Optimization
Mobile SEO
Local SEO
Website Analytics
Competitive Intelligence
Uptime Monitor
Detailed reports with actionable tips
PDF reports and white-label reports
Alert you to important keywords
Plans
Standard ($69.95/month) – check 500 keywords daily.
Smart ($99.95) – check 1,000 keywords daily.
Professional ($249.95) – check 2,500 keywords daily.
Enterprise ($999.95) – check 10,000 keywords daily.
Free plan:
The Smart Plan gives you access to all the tools free for one week.
SEOProfiler provides complete historical reports on any keyword that you track and also provides you indepth competitor analysis with charts and comparisons and presents you the keywords that they rank for and has the highest ranking.
This tool provides you the ability to track keywords ranking in 162 countries on desktop and mobile devices.
Adding new keywords to track is very easy and it's as simple as clicking a button and the keyword ranking monitor will check all the domains and subdomains and creates a keyword group automatically and allows you to add as many tags as you like.
6. Moz Rank Tracker
Moz is another premium SEO tool like SEMrush and Ahrefs. Moz has a lightning-fast tool that lets you check your keyword rankings easily.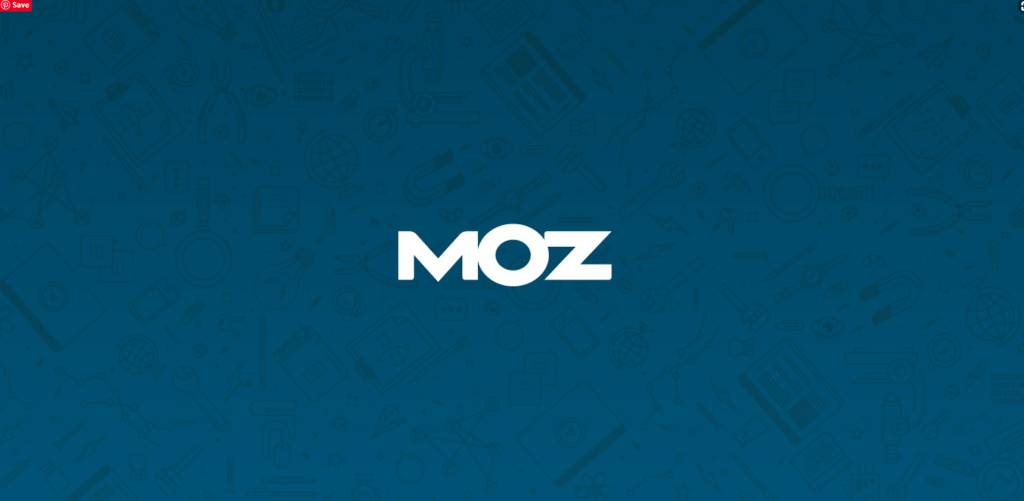 Moz provides great features:-
Generate instant rankings reports
Perform competitive research
Spot-check prospective keywords
Check the major search engines
Analyze keywords by search volume
Identify keyword difficulty
View your progress
Sort by predictive keyword metrics
Start tracking keywords long-term
Free Plan
Moz provides a Free 30 Day trial for their entire account and you can enjoy features like
Keyword Research
Rank Tracking
Site Crawl
Content Optimization
Link Research
Analytics & Reporting
Plans
$99 / mo ( Standard )
$149 / mo (Medium)
$249 / mo (Large)
$599 / mo (Premium)
The plans has several features depending on which package you choose. To get full information about it, you can visit the Moz Pricing Plans.
Conclusion
All the tools mentioned above are great tools and they provide great facilities, but out of all those SEMrush is my top choice for checking Keywords positions in Google and Bing Searches.
If you are using any of these tools or some other that we have not mentioned in this list, then comment below and let us know which tool you use.
Don't forget to share this post!
Thank me ❤️ by sharing this article…