Rename the Uncategorized Category in WordPress in 5 Mins
If you have wanted to Change or Rename the Uncategorized Category in WordPress, then you're not the first one. WordPress creates an uncategorized category with its default post "Hello World", this is also being set in setting > Writing > Default Post Category.
Often WordPress beginners ask us if it's possible to remove or rename the uncategorized category in WordPress since it reflects carelessness and unprofessional. In this article, we will show you how you can rename the uncategorized category, and how to change the default category in WordPress to whatever you wanted.
Disclosure: I may receive affiliate compensation for some of the links below at no cost to you if you decide to purchase a paid plan. You can read our affiliate disclosure in our privacy policy.
The 1st Step – Renaming Uncategorized Category in WordPress
Renaming Uncategorized Category in WordPress is just a few step of works and will hardly consume 5 minutes of your time.
NOTE: You cannot delete a default category, but you can rename it.
Login to your /wp-admin with Admin rights
Navigate to Posts > Categories > Edit – Uncategorized
Change the Name to Anything You Want – Like in my Blog I wrote General.
Also, change the slug to Anything you want.
Click the update button
and it's Done.
Here are the complete steps in Pics


In the name category if you choose to write General then this will be what your readers will see and the post will fall in when the search for Post within General Category.
And editing the slug means your website URL will be http://YourSite.com/category/general. Note: You should use lowercase while editing the slug. Slug means the URL.
If your WordPress site is Live and indexed by Google then you should use 301 Redirects Plugin to permanently redirect the links so that no user ends up with a dead end.
The 2nd Step – Renaming Uncategorized Category in WordPress
The 2nd step is to make sure that no new post are tagged and assigned to the post category "Uncategorized". So in this step, we will assign a default category for all your WordPress post.
Don't worry old post will not be affected with this, it will only reflect on the new post and you can change it on every post you publish. Since this step is taken so that if in case you forget to assign a category to any post it will assign itself to the default category we have set.
So its begin setting the default category for each post.
1. You should be logged into your /wp-admin with admin rights.
2. Go to Settings > writing > Default Post Category
3. Change it to your default post category you created in step 1
4. You are all Done now
This above entire steps in Pics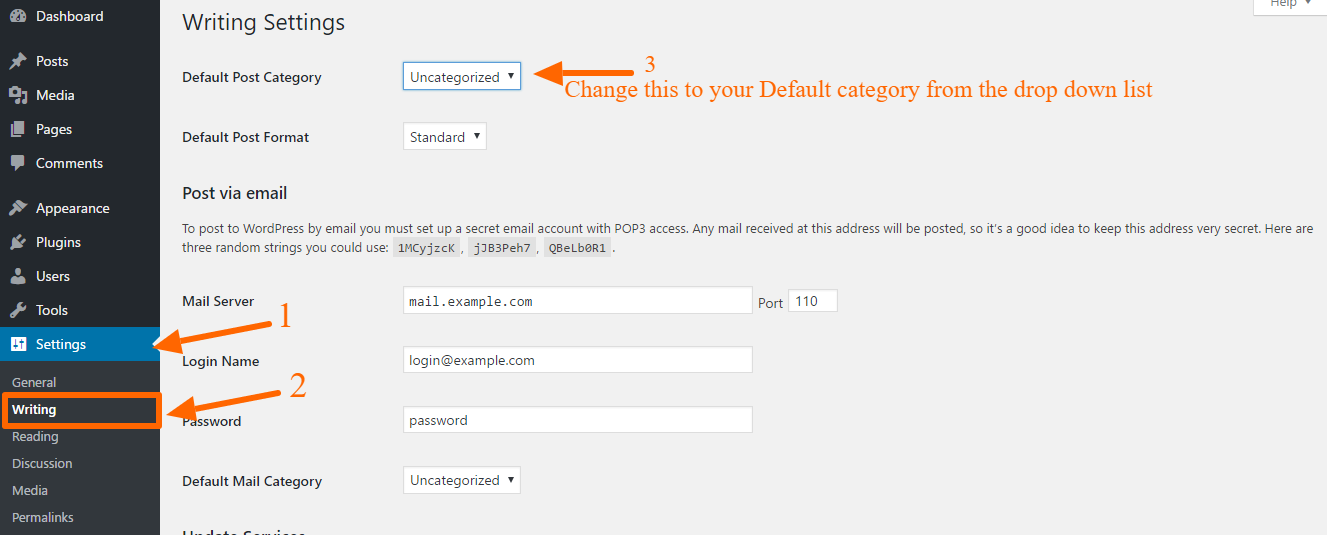 The first option on the page is to set a default post category. Click on the drop-down menu next to it and select the default category you would like to use. Don't forget to click on the save changes button to store your settings. WordPress will now use the category you selected as the default category.
From now onwards all your post will be selected under this category and you have the option to un-assign the post from this default category everytime you create a new post.
Conclusion
The above to process make completely sure that you rename and change your default Uncategorized category to whatever you want.
You should also remember to use the 301 Redirect WordPress plugin so that you can redirect the users coming from search and avoiding them from landing on a 404 – not found page.